Bernard "Gene" Venenga, 81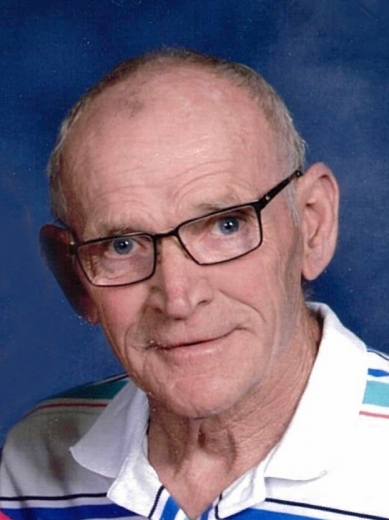 Bernard "Gene" Venenga, age 81, of Parkersburg, Iowa, was born the son of Bernard and Louise (Dilly) Venenga on July 27, 1942, in Grundy Center, Iowa.  Gene attended Wellsburg Schools.  In 1960, Gene joined the United States Air Force, where  he served as a machine operator in Iceland. Gene was honorably discharged in 1963.
In 1964, Gene was united in marriage with IlaMae Blythe at the Christian Reformed Church in Wellsburg.  The couple made their home in Holland, Iowa.  They later divorced.  On August 30, 2008, Gene married Janet Jansen Kruger at the Christian Reformed Church in Parkersburg.  The couple made their home at their current residence in Parkersburg.  Gene began working at the co-op, then at the cob plant, both in Holland.  He also owned his own upholstery shop out of their home.  Gene later worked for Grundy County where he was employed for over 30 years until his retirement.  
Gene was a member of the Christian Reformed Church in Parkersburg.  He performed many repair jobs for the church.  He was a member of the Parkersburg American Legion Post #285.  Gene  was a great handyman and enjoyed woodworking, helping neighbors and just being home.  Gene's 80th birthday was a very special day for him, as all his family were there to celebrate.
On Saturday, July 29, 2023, Gene died at the University of Iowa Hospital & Clinics in Iowa City, Iowa, of natural causes.  Gene is preceded in death by his parents, Bernard and Louise Venenga; two sisters, Sandi Duncan and Helen Tow; and three brothers-in-law, Art Duncan, Walt Cmelik and Norman Tow.
Gene is survived by his wife of  14 years, Janet of Parkersburg; four children, John (Judy) Venenga of Kingman, Arizona, Tammy (Cres Secchiaroli) Venenga of Quaker Hill, Connecticut, Jay (Diane) Venenga of Iowa City, Iowa, and Lisa (Kerry) Panozzo of Bradenton, Florida; two stepchildren Shari (Dean) Blake of Sturtevant, Wisconsin and Chad (Sheila) Kruger of Decorah, Iowa; six grandchildren, Eric, Aniko, Chauntel, Kaliegh, Enzo and Oscar; four step grandchildren, Beau, Benjamin, Sierra and Andy; and one sister, DeAnna Cmelik of Cherokee, Iowa.
Funeral services were held at 1:30 p.m., on Thursday, August 3, 2023, at the Christian Reformed Church in Parkersburg, with Pastor Russell Boersma officiating.  Janet Johnson was the pianist, and she accompanied the congregation as they sang "How Great Thou Art" and "Amazing Grace".  Ward Richards sang "O Jesus, I Have Promised".  The burial service was held at Oak Hill Cemetery in Parkersburg, with Ross Lage, Curt Hook, Doug Petersen, Steve Nelson, Eric Venenga, and Enzo Panozzo serving as Casketbearers.  Honorary Casketbearers were Beau Blake, Stan Hippen, Oscar Panozzo, Benjamin Blake, and Andy Kruger.  Military rites were conducted by Parkersburg American Legion Post #285.
Visitation was held from 5:00 p.m. to 7:00 p.m. on Wednesday, at Redman Funeral & Cremation Services – Parkersburg Funeral Home, and one hour before services.  Memorials may be directed to Parkersburg Chirstian Reformed Church or Parkersburg American Legion Post #285.  Online condolences may be left at www.redmanfuneral.com
Category:
Parkersburg Eclipse News-Review
503 Coates St.
Parkersburg, IA 50665
Phone:  319-346-1461
Mid-America Publishing
This newspaper is part of the Mid-America Publishing Family. Please visit www.midampublishing.com for more information.