Dennis Jay Kruger, 80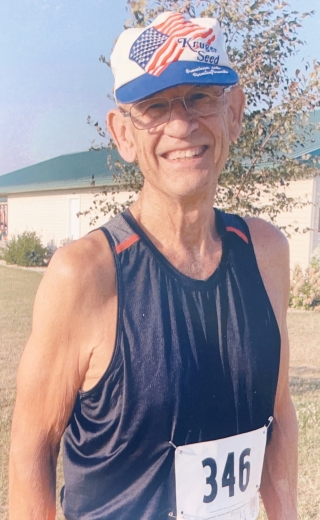 Dennis Jay Kruger
1942 - 2023
DIKE — Dennis Jay Kruger, 80 of Dike, passed away from a heart attack on Thursday, Aug. 24 in Iowa City. 
Funeral serves were Wednesday, Aug. 30 at Fredsville Lutheran Church.
Dennis was born on Oct. 11, 1942, in rural Grundy County, the son of Jake, and Lillian (Finger) Kruger. Dennis attended Dike High School and graduated with the class of 1961. From there, he worked for Petersen Seed, farmed and started to grow his family. Dennis was raised on a farm and throughout his life he continued his passion for family and farming. Dennis met Holly (Harris) Kruger of Marshalltown and remarried in 1980.
Dennis would often joke about being a simple farmer without a college education, but his legacy shows he was a sharp man with a knack for creating successful businesses. He demanded perfection from himself, and was compassionate about the struggles of others. His discipline and work ethic were an inspiration to those around him and his experience meant that when Dennis spoke, people listened. 
He was hardworking and industrious in nature. Among the businesses he built were Kruger Seed, Corn Country Beef Cattle Company, Fox Ridge Golf Course & Housing Development and Kruger Farms. Although there were many challenges along the road, he met each one with the determination he became known for. Dennis, and his dedicated employees, helped Kruger Seed quickly grow into a respected brand on the national stage. Dennis would want to thank all the hardworking people he was blessed to work with along the way.
His faith was a cornerstone of his life and the source of his strength. Hanging from his rearview mirror was a piece of scripture that included the lines, "I pray that I welcome difficulties, that they may test my strength and build my character." He was no stranger to loss. At times his faith was sorely tested but he always trusted in God's plan. 
Dennis cared a great deal for his community and could be heard saying, he lived in "the best place in the world." He could often be seen running, riding his bike around town or attending a local sporting event. He donated generously to many projects in Dike and the surrounding communities, including helping fund the trails he loved to run and ride. He enjoyed pushing his limits and working hard for the best possible performance. Dennis was a member of AA, the Cedar Valley Running Association, the Iowa Crop Improvement Board of Directors and bowled on many leagues. Dennis was a lifetime bowler, and even bowled a perfect game. Dennis lived his life with great intensity and great passion. He also had a soft spot for children and loved spending time with his grandchildren over the past decades. He will be dearly missed.
Left to cherish his memory are his brother, Gerald (Opal) Kruger; his sister, Linda (John) Oberle; daughters Kimberly Kruger, Stacy Kruger and Heidi Kruger; grandchildren: Jacob Bear, Jessie Marie, Kody (Vanessa) Kruger, Klayton (Lauren) Kruger and Django Vermeulen Kruger; great-grandson Kaden Kruger and many other nieces, nephews, family and friends whom he treasured. 
  He was preceded in death by his wife, Holly (Harris) Kruger, parents Jake and Lillian (Finger) Kruger, sons Kurt Kruger and Phil Kruger and daughter-in-law Jodi (Anderson) Kruger.
Memorials can be directed to the Fredsville Lutheran Church Building Fund
Category:
Parkersburg Eclipse News-Review
503 Coates St.
Parkersburg, IA 50665
Phone:  319-346-1461
Mid-America Publishing
This newspaper is part of the Mid-America Publishing Family. Please visit www.midampublishing.com for more information.