Harold Ray Bergman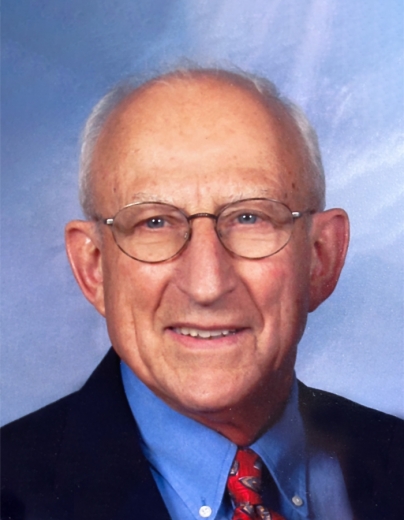 Harold Ray Bergman died on September 3, 2023 at Edencrest of Green Meadows in Johnston, Iowa. His funeral was at 11 a.m., Saturday, September 9, 2023 at The Bridge in Johnston, where visitation will begin at 9:30 a.m. Interment was at 11 a.m., Monday, September 11, 2023 at Oak Hill Cemetery in Parkersburg, Iowa.
Harold was born on Sept. 25, 1924, on a farm home three miles north and a quarter mile west of Stout, Iowa. He was the eldest child of Jacob M. (Meester) Bergman and Elizabeth (Knock) Bergman. 
Harold attended his first four years of elementary school in rural Butler County near Sinclair, one mile west of his birthplace. He spent his last four years of elementary school in the Stout School. He graduated from Parkersburg High School in 1942.
He was deferred during World War II to farm with his father and three uncles and was eventually drafted in 1945. As an occupation troop in the Army Ordnance Corps, he reached staff sergeant (T/3), serving a total of two years in France, Germany, and Austria, with the majority spent in Austria. In 2009 he was on an Honor Flight with fellow veterans to Washington, D.C.
In 1946 he resumed his education at the University of Iowa and finished in August of 1950 with a degree in mathematics and a teaching certification. 
On Aug. 21, 1950, he married his sweetheart of five years, Frances Jean Kalkwarf, daughter of Henry and Elizabeth (Mulder) Kalkwarf, in Parkersburg, Iowa. They lived for one year in Davenport, Iowa while he taught school. In July of 1951, Harold became a field manager for the Iowa Farm Bureau. His career with Farm Bureau lasted for 37.5 years. During his early years he served in Pottawattamie, Franklin, Jackson, and Tama counties. Later, he served in Audubon, Cass, Guthrie, Adair, Greene, Calhoun, and Sac Counties. He retired in 1989. 
He and Frances moved to Des Moines, Iowa in November of 1990 and lived there until his life's end. 
He began an exercise program in 1965 before it became "the thing to do" after reading an inspirational book by Air Force doctor Kenneth Cooper. Harold was a jogger and cyclist until he was no longer able. He rode six complete RAGBRAI bicycle rides and traversed the Colorado mountains in the first Denver Post's "Ride the Rockies" in 1986 with sons Mike and Tim. An avid cyclist throughout his life, he competed in the Senior Games Time Trial in 2004. 
He was an active life-long church member within the Reformed Churches of America, along with his family. He served as an elder, was on several committees and sang in the church choir. He was also a member of the American Legion and the Audubon Lions Club.
During his retirement years he was a volunteer tutor in the public schools with elementary children. He was also a member and president of the Golden K. Kiwanis Chapter in 2000–2001.
He and Frances were the parents of three sons: Michael and Ellen (Brandt) Bergman of West Des Moines, Iowa; Timothy and Kenna (Taylor) Bergman of Leawood, Kan.; and Philip and Donna (Der) Bergman of Scotts Valley, Calif. 
He has four grandsons: Alex and Brandt (Michelle Kuei) (Mike's family), and Brett and Kenny (Tim's family). 
Harold also claims Bassam Mourad of Brazil and Anne (Moitry) Vacant of France as their American Field Service children as they each spent a year (1971 and 1980 respectively) as exchange students during their senior year in high school with Harold and Frances. Bassam and Anne have kept in touch and have visited frequently. 
In addition to hosting international students, Harold and Frances were keen travelers and went to India (1983) to visit family friends, throughout Europe to visit Anne and otherwise, and to Brazil to visit Bassam. 
Harold has four surviving siblings: Marlyn of Santa Cruz, Calif.; Mid of Fallbrook, Calif.; Mary Ann (Larry) Jansen of Spirit Lake, Iowa; and Jim (Jan) of Norwalk, Iowa. 
He was preceded in death by his wife, Frances (2023), his father (1949) Mother (1974) a sister who died in infancy (1922) and brother, Bob (2016) of Stout, Iowa, brothers in law John Bode, John DeGroot, Johnny Kalkwarf, and Harold Kalkwarf and sisters in law Bonnie Bergman, Eunice Kalkwarf and Dorothy Kalkwarf.
In lieu of flowers please consider making a contribution to an organization of your choice.
Category:
Parkersburg Eclipse News-Review
503 Coates St.
Parkersburg, IA 50665
Phone:  319-346-1461
Mid-America Publishing
This newspaper is part of the Mid-America Publishing Family. Please visit www.midampublishing.com for more information.