Rhonda Marlynn Adelmund, 67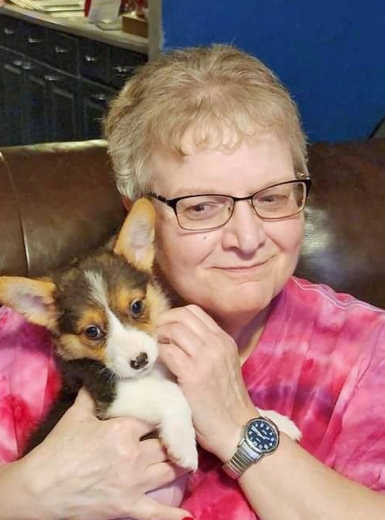 Rhonda Marlynn Adelmund, age 67, of Aplington, Iowa, was born the daughter of Bert and Caroline (Stickley) Adelmund on May 15, 1956, in Waterloo, Iowa.  Rhonda graduated from Parkersburg High School in 1974.  
While in high school, Rhonda worked at Marion's Café. After she graduated from high school, Rhonda purchased Café 14  and owned it for the next two years.  She then worked at Highway 20 Café and later as a dietician at Sartori Memorial Hospital in Cedar Falls, Iowa.  Rhonda later worked at Kwik Star in Parkersburg for 18 years, until her retirement in 2020.  Through the years, Rhonda also cared for her mother.  
Rhonda was a devoted volunteer at the Veteran's Memorial Building.  While working at Kwik Star, she was known at the "Hat Lady"  and if she knew her customer had a birthday, Rhonda would announce it to everyone in the store.  Recently, Rhonda began using a tablet and a smart phone which she thoroughly enjoyed.  She loved dogs, having her nails done, driving, and going out to eat.   Rhonda enjoyed baking and was known to share her goodies with her neighbors, and the employees at the cell phone store and the bank who helped serve her.  Rhonda loved little children, especially her nieces, nephews, great nieces and great nephews,  
On Wednesday, August 16, 2023, Rhonda died at her home in Aplington.  Rhonda is preceded in death by her parents; two brothers, Terry Reagan and Jerry "Botts" Adelmund; three sisters, Cynthia Adelmund, in infancy, Berdie Kugel and Sharon Peterson.
Rhonda is survived by one brother, Douglas (Susan) Adelmund of Parkersburg; two sisters-in-law, Ruth Reagan of Oelwein, Iowa, and Marilyn Adelmund of Stanford, Kentucky; many nieces, nephews, great nieces and great nephews and great great nieces and great great nephews.
A Celebration of Life Service was held at 6:00 p.m., Friday, August 25, 2023, at Redman Funeral & Cremation Services in Parkersburg.  Pastor Mandy McCleary from Jesup United Methodist Church officiated the service.  Chet Reagan sang "Old Rugged Cross".  Special music, "Sissy's Song" sung by Alan Jackson and "The Cowboy Rides Away" sung by George Strait were played.  Inurnment will be held at a later date at Oak Hill Cemetery in Parkersburg.
Visitation was held from 4:00 p.m. to 7:00 p.m., on Friday, at Redman Funeral & Cremation Services, Parkersburg Funeral Home.  Memorials may be directed to the Lupas Foundation of America.  Online condolences may be left at www.redmanfuneral.com
Category:
Parkersburg Eclipse News-Review
503 Coates St.
Parkersburg, IA 50665
Phone:  319-346-1461
Mid-America Publishing
This newspaper is part of the Mid-America Publishing Family. Please visit www.midampublishing.com for more information.